Recommend a Friend - Reward Scheme
This reward scheme is open to all our customers for whom we have completed work and to reward them for recommending us to their Friends, Family or Neighbours. Please ensure you include your Invoice number in the form below so that we can confirm that the claim is valid. Any recommendations without the invoice number included unfortunately can not be processed.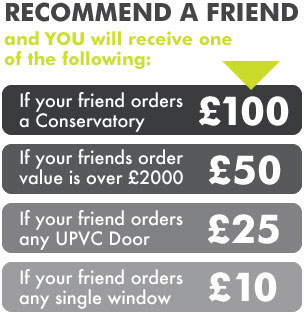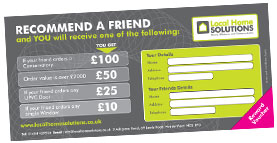 Terms and Conditions
On completion and full payment of said recommend friend. A cheque will be forwarded to yourself.
We strive to give all our customers the best products at the best price so to guarantee you get great value we rely on word of mouth advertising and get most of our new business from people like you who refer us to people they know. We could increase the price of our products so we can then advertise on TV and Radio like some other companies but we much prefer to give great value and ask you, who do you know? And reward you for the introduction.
We fill our own Argon units to achieve the A rated window